New England Anti-Vivsection Society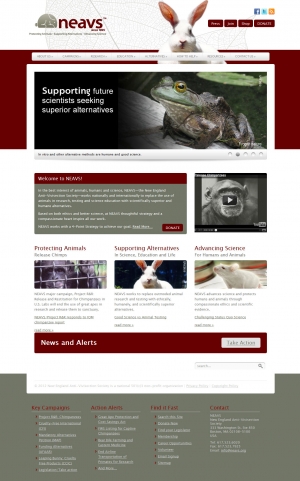 Modern Creative designed and developed this website with a custom-built ExpressionEngine (EE) Content Management (CMS) that allows NEAVS to manage a large data set of Scientific Papers, Media Resources and Action Alerts with ease.
This site is stage one for a series of sites we will be building for related campaigns and we will be expanding the feature set as we go. We worked with the client's own design ideas translate it into working templates. These templates will be the basis for future sites we will also build in EE.
In addition, Modern Creative spearheaded the more than 100 year old organization's total rebranding efforts with a comprehensive series of new logos for each of their divisions, a positioning platform, a direct mail fundraising campaign and more.